| | |
| --- | --- |
| Journal Title | JCES (Journal of Character Education Society) |
JCES (Journal of Character Education Society) is one of the devotion journals published by the Faculty of Teacher Training and Education of Muhammadiyah University of Mataram and published every January and July. The publication of JCES aims to disseminate conceptual thinking and ideas, especially the results of community service, including: (1) science, applied, social, economic, cultural, ICT development, and administrative services, (2) training and improvement of educational technology outcomes, agriculture, information and communication, and religion (3) Teaching and empowering community and community of students, youth and community institutions on an ongoing basis. All scope is realized to the community to form a society of character and uphold the values of education.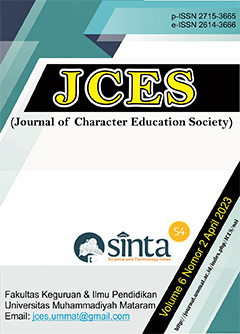 Announcements
CALL FOR PAPER 2021

Yth. Dosen/Peneliti/Laboran, etc

Kami mengundang Bapak/Ibu untuk publikasi hasil pengabdian masyarakat di periode terbit.

Volume 4 Nomor 1 Januari 2021


Paper Bapak/Ibu bisa kirim lewat Online Submission.
Jika ada kendala silahkan hubungi Contact Editor.

JCES sudah terindeks:

 




Sertifikat Akreditasi JCES (Download PDF)

Posted: 2020-01-17
More...
Vol 3, No 3 (2020): October
Table of Contents
Articles
Novi Sukma Drastiawati, Nur Aini Susanti, Tri Hartutuk Ningsih, Diah Wulandari, Andita Nataria Fitri Ganda

Views of Abstract: 67 | PDF: 8

439-448
Syaadiah Arifin

Views of Abstract: 28 | PDF: 11

449-459
Roni Hermawan, Deddy Wahyudi, Mohamad Akbar, Wendy Alexander Tanod, Alismi M Salanggon, Yeldi S Adel

Views of Abstract: 66 | PDF: 14

460-471
Yenry Anastasia Pellondou, Joris Taneo

Views of Abstract: 21 | PDF: 8

472-478
Astri Handari, Linda Septiana, Tine Badriatin

Views of Abstract: 10 | PDF: 2

479-485
Ahmad Saufi, Ahmad Faiz, Muhammad Rezky Yanuar

Views of Abstract: 137 | PDF: 31

486-500
Roikhan Mochamad Aziz, Puji Gita Ario Ilham

Views of Abstract: 30 | PDF: 7

501-521
Rusdiana Junaid, Muhammad Rusli Baharuddin

Views of Abstract: 19 | PDF: 4

522-534
Ilham Syahrul Jiwandono, Heri Setiawan, A. Hari Witono, Hudian Yusfil Hazmi

Views of Abstract: 18 | PDF: 4

535-542
Yenny AS, Anita Yuliastini, Rini Setiawati

Views of Abstract: 18 | PDF: 5

543-554
Anggun Citra Dini Dwi Puspitasari, Riko Riko

Views of Abstract: 45 | PDF: 1

555-562
Ratna Dian Kurniawati, Agung Sutriyawan, Ina Sugiharti, Supriyatni Supriyatni, Desi Trisiani, Ekawati Ekawati, Verano Verano, AA Cahya, Astrid Astrid, Sony Sony

Views of Abstract: 80 | PDF: 18

563-570
Ingrid Weddy Viva Febrya, Maryulis Maryulis

Views of Abstract: 10 | PDF: 1

571-582
Parliani Parliani, Tri Wahyuni, Sahbandi Sahbandi

Views of Abstract: 10 | PDF: 0

583-594
Rima Rahmaniah, Hidayati Hidayati, M. Hudri, Irwandi Irwandi, Nurmiwati Nurmiwati

Views of Abstract: 14 | PDF: 5

595-603
Handa Muliasari, Agus Dwi Ananto, Candra Eka Puspitasari, Rizqa Fersiyana Deccati, Virnia Wanda Utami

Views of Abstract: 39 | PDF: 7

604-610
Dewi Hikmah Marisda, Anisa Anisa, Rezkawati Saad, Yusri Handayani Hamid, Ilham Hadianto Karamma

Views of Abstract: 63 | PDF: 15

611-620
Nanang Rahman, Maemunah Maemunah, Haifaturrahmah Haifaturrahmah, Sukron Fujiaturahmah, Nursina Sari

Views of Abstract: 17 | PDF: 5

621-630
Rina Mariana, Harry Theozard Fikri, Isna Asyri Syahrina

Views of Abstract: 34 | PDF: 6

631-638
Riskawati Riskawati, Rahmatia Thahir, Muhammad Djajadi, Andi Gemmy A.M.A

Views of Abstract: 39 | PDF: 9

639-650
Hadi Irfani, Fitri Yeni, Rika Wahyuni

Views of Abstract: 164 | PDF: 41

651-659
Nanik Lestari, Mega Mayasari, Metta Santiputri, Uuf Brajawidagda

Views of Abstract: 22 | PDF: 1

660-678
Nurhayati Nurhayati, Fatma Zuhra, Septiani Septiani

Views of Abstract: 37 | PDF: 3

679-687
Muhtar Ahmad, Muzakkir Muzakkir, Zinnurain Zinnurain, Farida Fitriani, Hastuti Diah Ikawati

Views of Abstract: 11 | PDF: 3

688-694
Anisa Anisa, Nurul Magfirah, Rahmatia Thahir, Ernawati Ernawati, Nurdiyanti Nurdiyanti

Views of Abstract: 15 | PDF: 8

695-706
Erniwati Erniwati, M. Sirih, Hasnawati Hasnawati, Lili Darlian, Ahdiat Agriansyah

Views of Abstract: 13 | PDF: 4

707-717
Dinda Rizki Tiara

Views of Abstract: 27 | PDF: 8

718-726
Baiq Ruli Fatmawati, Marthilda Suprayitna, Kurniati Prihatin, Zuliardi Zuliardi, Zaenal Arifin, Zuhratul Hajri

Views of Abstract: 41 | PDF: 9

727-735