| | |
| --- | --- |
| Journal Title | JCES (Journal of Character Education Society) |
Initials
JCES
Frequency
4 issues per year (January, April, July, & October)
DOI
prefix 10.31764 by 
ISSN
2614-3666 (Online) 2715-3665 (Print)

OAI Address

http://journal.ummat.ac.id/index.php/JCES/oai 

Editor-in-Chief

S a d d a m
Managing Editor
S r i    M a r y a n i

Indexing
Google Scholar, CrossRef, Garba Rujukan Digital (Garuda), Moraref, ROAD, Neliti, Directory of Research Journal Indexing, Dimensions, Sinta (Grade 4)
Contact

[email protected]

 | +62 852-3764-1341
Publication
Januari 2018
Publisher
University of Muhammadiyah Mataram
JCES (Journal of Character Education Society) is one of the devotion journals published by the Faculty of Teacher Training and Education of Universitas Muhammadiyah Mataram and published every January and July. The publication of JCES aims to disseminate conceptual thinking and ideas, especially the results of community service, including: (1) science, applied, social, economic, cultural, ICT development, and administrative services, (2) training and improvement of educational technology outcomes, agriculture, information and communication, and religion (3) Teaching and empowering community and community of students, youth and community institutions on an ongoing basis. All scope is realized to the community to form a society of character and uphold the values of education.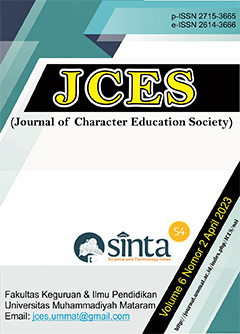 Announcements
CALL FOR PAPER 2021

Dear. Lecturer/Researcher/Teacher,, etc

We invite you to publish the results of community service in the published period.

Volume 4 Number 3, July 2021

Volume 4 Number 4, October 2021


Paper Mr / Mrs can send through Online Submission.
If there are any problems please contact Contact Editor.

JCES already indexed:

 




JCES Accreditation Certificate (Download PDF)

Posted: 2020-01-17
More...
Vol 4, No 3 (2021): Juli
Table of Contents
Articles
Novitawati Novitawati, Chresty Anggreani

Views of Abstract: 1 | PDF: 0