Journal title

Paedagoria: Jurnal Kajian, Penelitian dan Pengembangan Kependidikan

Initials
Paedagoria
Frequency
4 issues per year (Januari, April, Juli, Oktober)
Unless there is co-publication with conference organizers

DOI
prefix 10.31764 by
Print ISSN
2086-6356
Online ISSN
2614-3674
Editor-in-Chief
Mahsup
Statistics
Paedagoria Statistics
Status
Accredited (Sinta 4) | No. 

28/E/KPT/2019

Publisher
Faculty of Teacher Training and Education of Muhammadiyah University of Mataram
Contact
[email protected]
 
+62 821-4735-7617
Scope & Focus

Theoretical studies, research and development of teaching materials, activities, models or learning media in the field of education include mathematics and natural sciences (physics, chemistry, biology, science, ICT, and its applications); (2) social science, history, geography, culture and economy; (3) language and literature, and (4) basic education;

Research actions to increase motivation, activities, interests or learning outcomes in solving learning problems;

Development or design of creativity, innovation, and technology based on software, online or e-learning;

Development of curriculum, management, programs, and other education policies.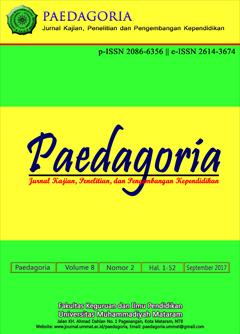 Announcements
No announcements have been published.
Vol 14, No 1 (2023): Januari
Table of Contents
Articles
Fernando Dorothius Pongoh

Views of Abstract: 105 | PDF: 11

01-06
Riki Irawan Pratama, Shomedran Shomedran

Views of Abstract: 80 | PDF: 15

07-16
Gigih Marisna Putra, Rini Sugiarti

Views of Abstract: 93 | PDF: 11

17-21
Hana Tasya C Anu, Elieser R Marampa, Semi Darius Kainara, Yermias Eliasar Alunat

Views of Abstract: 164 | PDF: 58

22-29
Aulia Nurhasanah Sinurat, Annisa Dea Salsabila, Meri Agesti, Qisty Kinanti Sidiq, Ahmad Fu'adin

Views of Abstract: 60 | PDF: 7

30-35
Jiji Najiah, Titik Haryati, Fery Irianto Setyo Wibowo, Niam Rohmatullah, Ory Syafari Jamel Sutiyan

Views of Abstract: 97 | PDF: 24

34-44
Donatus Rendo, Philipus N. Supardi, Marselinus Y. Nisanson

Views of Abstract: 50 | PDF: 5

45-49
Muhammad Ramli, Rabiudin Rabiudin, La Ode Mardin

Views of Abstract: 40 | PDF: 3

50-57
Uswatun Hasanah, Heni Verawati, Ida Faridatul Hasanah, Evi Febriani, Devi Sela Eka Selvia

Views of Abstract: 137 | PDF: 1

58-66
Sarah Fadilla, Ari Juliana, Adisthy Shabrina Nurqamarani

Views of Abstract: 73 | PDF: 1

67-77
Dian Saputra, Muhaiminah Akib, Alda Patty, Rezkiah Hartanti, Rinda Hardianti

Views of Abstract: 129 | PDF: 14

78-83
Aprilia Santika, Eva Riris Simanjuntak, Rizky Amalia, Siti Rainy Kurniasari

Views of Abstract: 113 | PDF: 20

84-94