Focus and Scope

ORBITA: Jurnal Pendidikan dan Ilmu Fisika invites and welcomes the submission of advanced research and review papers, innovations and developed selected conference papers that have never been previously published. This journal provides publications and a forum to the academics, scholars and advanced level students for exchanging significant information and productive ideas associated with all disciplines in the field of physics and education physics (learning physics in early education, primary and secondary education, and higher education)


The relevant topics of the latest progressive findings or developments will be taken seriously into consideration, the topics covered by the journals include: learning methods development; learning media development; learning models, and approaches implementation; Etnophysics (learning models by considering local wisdom and being enriched with the principle of religion and culture); literature study (meta analysis, and systematic literature review); and several application of physics (current issue of applied physics).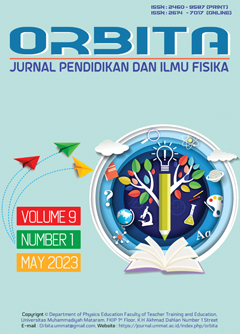 Announcements
.

We invite you to publish the research and development of physics in ORBITA : Jurnal Pendidikan dan Ilmu Fisika in the period :

Volume 10, Number 1, May 2024 (Submit Periode : 01 October 2023 - 31 March 2024)


Volume 9, Number 2, November 2024 (Submit Periode : 01 April - 30 September 2024)





Please send your full paper (*.doc or *.docx) via the REGISTER/LOGIN form.

Already have a Username/Password for ORBITA: Jurnal Kajian, Inovasi dan Aplikasi Pendidikan Fisika?
GO TO LOGIN

Need a Username/Password?
GO TO REGISTRATION

Registration and login are required to submit items online and to check the status of current submissions.




ATTENTION:

Please submit using a good and correct Orbita Template

Reference at least 15, the last 10 years publication.
Recommended using Mendeley/Zotero/EndNote application in writing reference.
Plagiarism Check results a maximum of 25%. Upload the plagiarism result (*.pdf) in Step 4 as an attachment file at the time of submission.
Maximum file size of 2 MB.



Posted: 2022-12-18
More...
Vol 9, No 2 (2023): November
Table of Contents
Articles
Hikmawati Hikmawati, Ni Nyoman Sri Putu Verawati, Syahrial Ayub

Views of Abstract: 52 | PDF: 3

194-199
Noorhalida Noorhalida, Hadma Yuliani, Santiani Santiani

Views of Abstract: 294 | PDF: 10

200-212
Rajo Hasim Lubis, Deo Demonta Panggabean, Silvia Dona Sari, Adeline Silaban

Views of Abstract: 27 | PDF: 2

213-220
Arif Algifari, Adrian Adrian

Views of Abstract: 55 | PDF: 16

221-230
Musdar Musdar, Susanna Susanna, Mawarni Saputri, Nurulwati Nurulwati, Andia Fatmaliana

Views of Abstract: 65 | PDF: 2

231-237
Laila Magfirah Mahmud, Abdul Haris Odja, Nova Elysia Ntobuo, Tirtawaty Abdjul

Views of Abstract: 58 | PDF: 7

238-247
Yulianti Yusal, Ratna Wahyu Wulandari, Atika Anggraini, Aziza Anggi Maiyanti

Views of Abstract: 41 | PDF: 4

248-253
Vistarani Arini Tiwow, Meytij Jeanne Rampe, Sulistiawaty Sulistiawaty, Pariabti Palloan

Views of Abstract: 42 | PDF: 11

254-261
Fingki Aritsya Demanto, Masra Latjompoh, Muhammad Yusuf, Masrid Pikoli, Chairunnisah J. Lamangantjo, Tirtawaty Abdjul

Views of Abstract: 36 | PDF: 2

262-270
Sri M. Katiandagho, Masra Latjompoh, Supartin Supartin

Views of Abstract: 35 | PDF: 1

271-276
Umi Pratiwi, Adilla Luthfia

Views of Abstract: 145 | PDF: 51

277-283
Wahyu Dwi Puspitasari, Filda Febrinita, Indyah Hartami Santi

Views of Abstract: 55 | PDF: 11

284-293
Septian Halim Iman, Muhammad Yusuf, Tirtawaty Abdjul, Abdul Haris Odja

Views of Abstract: 44 | PDF: 3

294-304
Rahmawati Hadju, Tirtawaty Abdjul, Muhammad Yusuf, Abdul Haris Odja

Views of Abstract: 50 | PDF: 10

305-313
Sindi Sindi, Nurlina Nurlina, Dewi Hikmah Marisda, S.Pd., M.Pd

Views of Abstract: 53 | PDF: 2

314-318
Hindi Rezeki, Khaerus Syahidi, Eko Septi Mardi

Views of Abstract: 33 | PDF: 6

319-323
Ni Wayan Sri Darmayanti, I Wayan Suantara, Ni Putu Eni Astuti, Ni Komang Ayu Ulan Dari, Ni Ketut Sri Partini, Kadek Yuni Wulandari

Views of Abstract: 28 | PDF: 2

324-331
Devi Hermalasari, Muhammad Yusuf, Nova Elysia Ntobuo

Views of Abstract: 33 | PDF: 7

332-340
Aisyah Widia Tami, Slamat Fitriyadi, Rien Anitra

Views of Abstract: 35 | PDF: 5

341-345
Rudi Purwanto

Views of Abstract: 39 | PDF: 8

346-353
Miranda Miranda, Emi Sulistri, Mertika Mertika

Views of Abstract: 3 | PDF: 1

354-360