| | |
| --- | --- |
| Journal Title | JMM (Jurnal Masyarakat Mandiri) |

JMM (Jurnal Masyarakat Mandiri) is a journal published by the Mathematics Education Departement of Education Faculty of Muhammadiyah University of Mataram. JMM (Jurnal Masyarakat Mandiri) aims to disseminate the results of conceptual thinking and ideas, especially the results of educational research and technology to be realized in the community, including (1) Fields of science, applied, social, economic, cultural, ICT development, and administrative services, (2) Training and improvement in the results of educational, agricultural, information and communication, and religious technology (3) Teaching and empowering communities and communities of students, youth, youth and community organizations on an ongoing basis.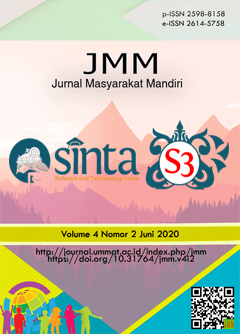 Announcements
CALL FOR PAPER 2021

Dear,
Lecturer, Researcher, Teacher, etc

We invite you to publish the results of devotion to the community, according to the scope of JMM (Jurnal Masyarakat Mandiri), in the period:

Call for Paper 2020 - CLOSED

Vol. 5, No. 1, March 2021 (Open)

Vol. 5, No. 2, June 2021 (Open)

Vol. 5, No. 3, September 2021 (Open)

Vol. 5, No. 4, December 2021 (Open)

Please send your full paper (. * doc) via the Register/Login form.
Email: [email protected]
Phone/WA: +62 87864003847

ATTENTION:

Please submit using a good and correct JMM Template.
Reference at least 20, the last 10 years publication.
Recommended using Mendeley/Zotero/EndNote application in writing reference.
Plagiarism Check results a maximum of 20%.

Posted: 2019-01-01
Vol 4, No 5 (2020): November
Periode terbit ini merupakan artikel dari Seminar Nasional Karya Pengabdian yang diselenggarakan oleh Fakultas Pertanian Universitas Muhammadiyah Mataram pada tanggal 20-21 Oktober 2020 dan telah melewati proses pemeriksaan (review) sehingga layak dipublikasikan di Vol. 4 No. 5 November 2020.
Table of Contents
Articles
Ratri Retno Utami, Wahyuni Wahyuni, Arni Pratama, Wiyanto Phillipus Tangkin

Views of Abstract: 3 | Download [PDF]: 1

694-702
Ahmad Mustanir, Monalisa Ibrahim, Sapri Sapri, Muhammad Rais Rahmat Razak

Views of Abstract: 15 | Download [PDF]: 1

703-713
Lolita Endang Susilowati, Zaenal Arifin, Sukartono Sukartono, Bambang Hari Kusumo, Kisman Kisman

Views of Abstract: 21 | Download [PDF]: 0

714-725
Onne Akbar Nur Ichsan, Merkuria Karyantina

Views of Abstract: 6 | Download [PDF]: 0

726-734
Yoyok Budi Pramono, Sri Mulyani, Bambang Dwiloka, Heni Rizqiati

Views of Abstract: 9 | Download [PDF]: 0

735-741
Mursal Ghazali, Rina Kurnianingsih, Nurhayati Nurhayati, Sunarpi Sunarpi

Views of Abstract: 13 | Download [PDF]: 0

742-751
Iman Suswanto, Sarbino Sarbino, Maherawati Maherawati

Views of Abstract: 6 | Download [PDF]: 0

752-763
Rita Khairina, Yuspihana Fitrial, Iin Khusnul Khotimah, Nooryantini Soetikno

Views of Abstract: 0 | Download [PDF]: 0

764-774
Dian Purbasari, Andi Eko Wiyono, Septy Handayani

Views of Abstract: 0 | Download [PDF]: 0

775-784
Damat Damat, Anas Tain, Devi Dwi Siskawardani, Sri Winarsih

Views of Abstract: 12 | Download [PDF]: 0

785-796
Erick Firmansyah, Hangger G. Mawandha, M. Prasanto Bimantio

Views of Abstract: 6 | Download [PDF]: 1

797-805
Nurhayati Nurhayati, Asmawati Asmawati, Syirril Ihromi, Marianah Marianah, Adi Saputrayadi

Views of Abstract: 14 | Download [PDF]: 1

806-817
Ita Zuraida, Ahmad Yuli, Indrati Kusumaningrum, Bagus Fajar Pamungkas

Views of Abstract: 4 | Download [PDF]: 0

818-827
Saijo Saijo, Fitriadi Yusuf

Views of Abstract: 2 | Download [PDF]: 0

828-839
Nurpilihan Bafdal, Siti Nurhasanah, Irfan Ardiansah

Views of Abstract: 10 | Download [PDF]: 0

840-849
Mulyati Mulyati, Riza Hamkery Salam, Baharuddin AB, R. Sri Tejowulan

Views of Abstract: 5 | Download [PDF]: 1

850-858
Elida Novita, Luh Putu Suciati, Nian Riawati, Idah Andriyani, Hendra Andiananta Pradana

Views of Abstract: 6 | Download [PDF]: 0

859-869
Novitri Kurniati, Jafrizal Jafrizal, Neti Kesumawati, Dwi Fitriani

Views of Abstract: 9 | Download [PDF]: 1

870-879
Dian W. Kurniawidi, Siti Alaa, Bakti Sukrisna, Syamsuddin Syamsuddin, Susi Rahayu

Views of Abstract: 2 | Download [PDF]: 0

880-887
Rina Kurnianingsih, Mursal Ghazali, Siti Rosidah, Aida Muspiah, Sri Puji Astuti, Aluh Nikmatullah

Views of Abstract: 18 | Download [PDF]: 1

888-896
Isti Handayani, Sujiman Sujiman

Views of Abstract: 3 | Download [PDF]: 0

897-905
Siti Nurhasanah, Syamsul Huda, Nandi Sukri, Feni Windarningsih

Views of Abstract: 4 | Download [PDF]: 0

906-913
Afriyanti Afriyanti, A. Intan Niken Tari, Retno Widyastuti

Views of Abstract: 7 | Download [PDF]: 1

914-921
Vivi Nuraini, Kapti Rahayu Kuswanto

Views of Abstract: 5 | Download [PDF]: 1

922-929
Roisu Eny Mudawaroch, Zulfanita Zulfanita

Views of Abstract: 8 | Download [PDF]: 0

930-939
Nurhayati Nurhayati, Maria Belgis, Sih Yuwanti, Shania Listyana Putri

Views of Abstract: 3 | Download [PDF]: 2

940-947
Yustina Wuri Wulandari, Vivi Nuraini

Views of Abstract: 4 | Download [PDF]: 0

948-957
Zaenal Arifin, Lolita Endang Susilowati

Views of Abstract: 7 | Download [PDF]: 1

958-968
Dyah Ayu Savitri, Rufiani Nadzirah, Noer Novijanto

Views of Abstract: 3 | Download [PDF]: 1

969-977
Muanah Muanah, Karyanik Karyanik, Earlyna Synthia Dewi

Views of Abstract: 5 | Download [PDF]: 0

978-986
Muliatiningsih Muliatiningsih, Rosyid Ridho, Erni Romansyah, Suwati Suwati, Marianah Marianah, Syirril Ihromi

Views of Abstract: 2 | Download [PDF]: 0

987-994
Roisatul Ainiyah, Desy Cahyaning Utami, Cahyaning Rini Utami

Views of Abstract: 4 | Download [PDF]: 0 | Download [PDF]: 3

995-1005
Satrijo Saloko, Bambang Budi Santoso, Sahrul Alim, L. Mukhtar Atmawinata

Views of Abstract: 2 | Download [PDF]: 0

1006-1017
Amalia Nur Milla, Neneng Nurbaeti, Livia Ramadanti, Maulana Malik, Kiki Blesenki

Views of Abstract: 21 | Download [PDF]: 1

1018-1029
Yannie Asrie Widanti, Sutardi Sutardi

Views of Abstract: 8 | Download [PDF]: 0

1030-1039