| | |
| --- | --- |
| Journal Title | JMM (Jurnal Masyarakat Mandiri) |

JMM (Jurnal Masyarakat Mandiri) aims to disseminate the results of conceptual thinking and ideas, especially the results of educational research and technology to be realized in the community, including (1) Fields of science, applied, social, economic, health, cultural, ICT development, and administrative services, (2) Training and improvement in the results of educational, agricultural, information and communication, and religious technology (3) Teaching and empowering communities and communities of students, youth, youth and community organizations on an ongoing basis.
========================
RIWAYAT PUBLIKASI 2020
Kami ucapkan terima kasih atas kepercayaan para penulis yang telah mempublikasikan hasil pengabdian masyarakat di JMM (Jurnal Masyarakat Mandiri). Kami juga ucapkan terima kasih kepada Panitia (1) Seminar Nasional Rekarta, (2) Seminar Nasional Hasil Karya Pengabdian, dan (3) The 1st Virtual International Conference on Literature, Education, Economics, Interdisciplinary Studies, Social Sciences & Humanities Innovation Research (ICLEISR) yang telah mempercayakan artikel dari para pemakalah terpilih diterbitkan di JMM (Jurnal Masyarakat Mandiri).
Antusias masyarakat Indonesia yang submit ke JMM (Jurnal Masyarakat Mandiri) sangat tinggi, terbukti sejak Januari-Desember 2020 terdapat 300-an paper disubmit ke JMM (Jurnal Masyarakat Mandiri). Sehingga peluang diterima di JMM hanya 46,67%. Oleh sebab itu, Tim Editor JMM membuat kebijakan mulai 2021, JMM (Jurnal Masyarakat Mandiri) terbit enam kali dalam setahun yakni Februari, April, Juni, Agustus, Oktober, dan Desember.
Hormat Kami,
Tim Editor JMM
Citation Information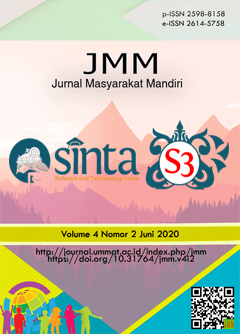 Announcements
PERSYARATAN SEBELUM SUBMIT

Posted: 2022-03-23

CALL FOR PAPER 2022

===

SUBMIT MULAI TANGGAL 15 AGUSTUS 2022 AKAN DIIKUTKAN PADA PERIODE DESEMBER 2022.

===




Dear,

Lecturer, Researcher, Teacher, etc

We invite you to publish the results of devotion to the community, according to the scope of JMM (Jurnal Masyarakat Mandiri), in the period:
Vol. 6, No. 4, Agustus 2022 [TUTUP]
Vol. 6, No. 5, Oktober 2022 [TUTUP, [Review: Agustus-September]
Vol. 6, No. 6, Desember 2022 [Periode Submit: 15 Agustus - 30 September 2022], [Review: Oktober-Nopember]

 

Please send your full paper (. * doc) via the Register/Login form.
Email: [email protected]
Phone/WA: +62 87864003847

ATTENTION:

Please submit using a good and correct JMM Template.
Reference at least 15, the last 10 years publication.
Recommended using Mendeley/Zotero/EndNote application in writing reference.
Plagiarism Check results a maximum of 20%.
Maximum file size of 2 MB.

 

Acceptance Rate 2020 = 47%
Acceptance Rate 2021 = 23%

Posted: 2019-01-01
Vol 6, No 4 (2022): Agustus
Sedang proses editing, akan dionlinekan pada tanggal 20 Agustus 2022.
Table of Contents