| | |
| --- | --- |
| Journal Title | JTAM (Jurnal Teori dan Aplikasi Matematika) |
JTAM (Jurnal Teori dan Aplikasi Matematika) is a peer-refereed open-access journal which has been established for the dissemination of state-of-the-art knowledge in the field of theory and applications of mathematics. All submitted manuscripts will be initially reviewed by editors and are then evaluated by a minimum of two reviewers through the double-blind review process. This is to ensure the quality of the published manuscripts in the journal. 
JTAM (Jurnal Teori dan Aplikasi Matematika) welcomes high-quality manuscripts resulted from a research project in the scope of mathematics and mathematics education, which includes, but is not limited to the following topics: 
Mathematics Education:
Realistic Mathematics Education (RME)
Problem Based Learning (PBL)
Contextual Teaching Learning (CTL)
Design/Development Research in Mathematics and Mathematics Education
PISA Task
Mathematics Ability
ICT in Mathematics Education
Mathematics-based Learning Multimedia and Conventional
Lesson Study for Learning Community
Ethnomathematics
Mathematics:
Algebra and Number Theory
Analysis
Numerical Analysis
Geometry and Topology
Theoretical Computer Science
Control and Optimization
Logic
Discrete Mathematics and Combinatorics
Computational Mathematics
Applied Mathematics
Statistics, Probability, and Its Applications.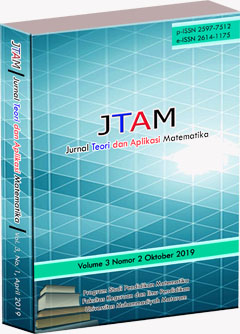 Announcements
CALL FOR PAPER 2021

Dear,
Lecturer, Researcher, Teacher, etc

We invite you to publish the results of research and development of mathematics and mathematics education in JTAM (Jurnal Teori dan Aplikasi Matematika) in the period:

Vol. 4, No. 1, April 2021  (Published)

Vol. 4, No. 2, October 2021 (Open)

Please send your full paper (. * doc) via the Register/Login form.

 

ATTENTION:

Please submit using a good and correct JTAM Template.
Reference at least 20, the last 10 years publication
Recommended using Mendeley/Zotero/EndNote application in writing reference. Download Mendeley here.
Plagiarism Check results in a maximum 20%. Then, (1) File Plagiarism Check (PDF) and (2) Registration Form (PDF) is uploaded in Step 4 as an attachment file at the time of submission.
Letter of Acceptance (LoA) is provided after going through the review and revision process.
To speed the publication process you can send a screenshot after submit or paper ID to the Chief Editor's contact [+6287864003847]

The manuscript must be original research, written in English (start Volume 4 Number 1, April 2020), and not be simultaneously submitted to another journal or conference.

Posted: 2020-06-05
Vol 5, No 1 (2021): April
JTAM Editorial Team say thank you so much to all authorss from various campuses and countries. Hopefully in the future JTAM will be better.
Kunsan National University, South Korea
National Central University, Taiwan
DDU Gorakhpur University, Gorakhpur, India
Guangxi Normal University, China
University of Central Florida, United States
Universiti Kebangsaan Malaysia, Malaysia
University of Szeged, Hungary
Universitas Pendidikan Indonesia, Indonesia
Universitas Islam Negeri Sunan Gunung Djati, Indonesia
Universitas Muhammadiyah Purwokerto, Indonesia
Brawijaya University, Malang, Indonesia
Universitas Sriwijaya, Indonesia
University Wiralodra, Indramayu, Indonesia
Ahmad Dahlan University, Yogyakarta, Indonesia
Universitas Katolik Indonesia Santu Paulus Ruteng, Indonesia
Universitas Muhammadiyah Mataram, Indonesia
Universitas Islam Negeri Raden Intan Lampung, Indonesia
Universitas Muhammadiyah Malang, Indonesia
Universitas Kristen Satya Wacana, Indonesia
Universitas Bumigora, Indonesia
Universitas Mataram, Indonesia
Politeknik Perkapalan Negeri Surabaya, Indonesia
Alauddin State Islamic University Makassar, Indonesia
Andi Djemma University, Palopo, Indonesia
Billfath University, Indonesia
Table of Contents
Articles
Irwan Kasse, Andi Mariani, Serly Utari, Didiharyono D.

Views of Abstract: 0 | DOWNLOAD [PDF]: 0

1-13
Septiangga Van Nyek Perdana Putra, Agus Suryanto, Nur Shofianah

Views of Abstract: 0 | DOWNLOAD [PDF]: 0

14-27
Arun Kumar Rao, Himanshu Pandey

Views of Abstract: 0 | DOWNLOAD [PDF]: 0

28-35
Tabita Wahyu Triutami, Uun Hariyanti, Dwi Novitasari, Ratna Yulis Tyaningsih, Junaidi Junaidi

Views of Abstract: 0 | DOWNLOAD [PDF]: 0

36-49
Farizi Rachman, Dhika Aditya Purnomo, Ridhani Anita Fajardini, Rena Riza Umami

Views of Abstract: 0 | DOWNLOAD [PDF]: 0

50-59
Ulfa Lu'luilmaknun, Karin Selma Al Kautsar, Ratih Ayu Apsari, Tabita Wahyu Triutami, Nourma Pramestie Wulandari

Views of Abstract: 0 | DOWNLOAD [PDF]: 0

60-69
Nourma Pramestie Wulandari, Faishal Wahiduddin, Ulfa Lu'luilmaknun, Mohammad Archi Maulyda, Ratih Ayu Apsari

Views of Abstract: 0 | DOWNLOAD [PDF]: 0

70-79
Siti Soraya, Baiq Candra Herawati, Habib Ratu Perwira Negara

Views of Abstract: 0 | DOWNLOAD [PDF]: 0

80-87
Suryasatriya Trihandaru, Hanna Arini Parhusip, Bambang Susanto, Yohanes Sardjono

Views of Abstract: 0 | DOWNLOAD [PDF]: 0

88-99
Aris Alfan, Fitroh Resmi, Nihaya Alivia Coraima Dewi

Views of Abstract: 0 | DOWNLOAD [PDF]: 0

100-109
Sugiyarto Sugiyarto, Joko Eliyanto, Nursyiva Irsalinda, Zhurwahayati Putri, Meita Fitrianawat

Views of Abstract: 0 | DOWNLOAD [PDF]: 0

110-120
Teguh Santoso, Yus Mochamad Cholily, Mohammad Syaifuddin

Views of Abstract: 0 | DOWNLOAD [PDF]: 0

121-133
Suherman Suherman, Adib Mustofa Zaman, Farida Farida

Views of Abstract: 0 | DOWNLOAD [PDF]: 0

134-143
Suparman Suparman, Maximus Tamur, Yunita Yunita, Tommy Tanu Wijaya, Syaharuddin Syaharuddin

Views of Abstract: 0 | DOWNLOAD [PDF]: 0

144-161
Yudi Ari Adi

Views of Abstract: 0 | DOWNLOAD [PDF]: 0

162-170
Diki Mulyana, Mochammad Taufan, Luthfiyati Nurafifah

Views of Abstract: 0 | DOWNLOAD [PDF]: 0

171-181
Septi Puspita Sari, Zulkardi Zulkardi, Darmawijoyo Darmawijoyo

Views of Abstract: 0 | DOWNLOAD [PDF]: 0

182-192
Nurmaini Puspitasari, Wuryansari Muharini Kusumawinahyu, Trisilowati Trisilowati

Views of Abstract: 0 | DOWNLOAD [PDF]: 0

193-204
Kusno Kusno, Eka Setyaningsih

Views of Abstract: 0 | DOWNLOAD [PDF]: 0

205-215
Wati Susilawati, Tika Karlina Rachmawati, Ida Nuraida

Views of Abstract: 0 | DOWNLOAD [PDF]: 0

216-224
Willy Abdul Ghany, Wahyudin Wahyudin

Views of Abstract: 0 | DOWNLOAD [PDF]: 0

225-235
Nur Hijjah Arigawati, Kusnandi Kusnandi

Views of Abstract: 0 | DOWNLOAD [PDF]: 0

236-245
Agus Haerani, Khusnul Novianingsih, Turmudi Turmudi

Views of Abstract: 0 | DOWNLOAD [PDF]: 0

246-253
Abdul Nu'man Asok, A Hasanah

Views of Abstract: 0 | DOWNLOAD [PDF]: 0

254-261